BAYADA Home Health Care proudly announces its successful reaccreditation by the Community Health Accreditation Partner (CHAP). This recognition reaffirms the continuing commitment to providing exceptional home health care services and is a testament to BAYADA's dedication to maintain the highest standards of care in home health care.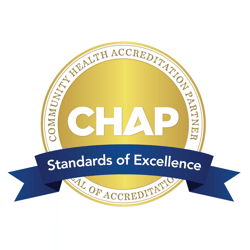 To earn accreditation, BAYADA must submit to a rigorous, voluntary on-site survey to ensure our services meet the industry's highest standards of care. This exhaustive evaluation assessed BAYADA's adherence to the most exacting industry standards, further solidifying the organization's reputation for excellence in home and community-based health care.
CHAP reviewers conducted several one-on-one interviews with key BAYADA leadership figures, including CEO David Baiada, Founder and Chairman Mark Baiada, as well as those representing critical functions such as clinical operations, infection prevention, information technology, finance, human resources, risk management, corporate compliance, quality assurance, performance improvement, contract management, and human resources.
The on-site surveyors meticulously reviewed clinical records and employee files; conducted several home visits and in-person interviews; and performed a comprehensive evaluation of BAYADA's Quality Assurance Performance Improvement program, Infection Prevention Program, and policies.
David Baiada, CEO of BAYADA Home Health Care, expressed his pride and gratitude, stating, "I am pleased and proud, but not at all surprised that we have earned CHAP reaccreditation. The CHAP surveyors were able to witness, first-hand, The BAYADA Way in action and our employees' commitment to consistently demonstrate the highest level of skill, competence, and sound judgment in our work. I express my deepest gratitude to all those involved in the CHAP survey, and to our entire BAYADA family for providing the best possible care to our clients."