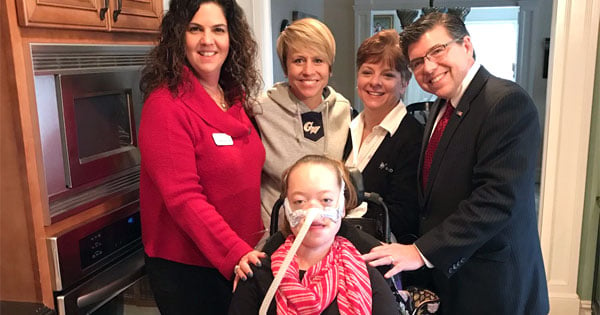 NJ Assemblyman Anthony Bucco visited the home of a pediatric home care patient. Pictured (from l to r) are BAYADA Pediatrics Director Christine Rios, Christina Cerza, mother of patient Carly Zukowsky; BAYADA Clinical Manager Kathleen Rush; Bucco, and Carly.
Christine Rios, director of the BAYADA Pediatrics office in Morris Plains, NJ, has been recognized as the national BAYADA Home Health Care Government Affairs Ambassador of the Year for her outstanding dedication to legislative advocacy on behalf of patients and staff. She was selected for this prestigious honor from more than 250 Ambassadors across the country.
When Rios joined BAYADA as a client services manager nearly 22 years ago, she never imagined that activities such as testifying in front of 30 legislators at a New Jersey state budget hearing would become part of her job description.
"At first, I felt intimidated to talk to elected officials," said Rios. "But I knew that I had to fight for the elderly, the frail, the disabled, and the families of children with special needs who often don't have the time, resources, knowledge, or courage to speak up for themselves."
Rios soon overcame her fears, learning by experience that legislators are quite willing to support the home health care industry, once she helped them understand why that support was so important. She has visited state representatives in their district offices, attended numerous events for legislators on both sides of the aisle, hosted family advocacy events in her office, became a member of the NJ Home Care Association, and coordinated home visits so that legislators could see, first-hand, how home care professionals make such a positive impact on the lives of their constituents.
"I am honored and humbled, but I don't do this for the recognition," said Rios, who accepted the award during a reception in Washington, DC. "It's my passion to be the voice for people who don't have a voice – our patients and employees."
The BAYADA Government Affairs Hearts for Home Care Ambassador Program was established in 2011 to help build relationships with local legislators to educate them about the need for home health care – a high quality, low-cost health care option. Volunteer Ambassadors advocate for patient access to care and the need for fair, competitive wages, which are dependent on adequate Medicaid reimbursement rates.
According to Rios, as the baby boom population ages, more people will require care at home. However, home care agencies are reimbursed at a lower rate than hospitals, making it a challenge to recruit enough care professionals to meet the increasing demand for services.
"By getting involved with legislative advocacy I hope to create positive change so that more people can live in the comfort and safety of home, where they want to be," said Rios. "It doesn't take much to get involved. Even sending a letter or a quick email can make a huge impact."
To learn more about advocating for the home health care industry, visit heartsforhomecare.com.