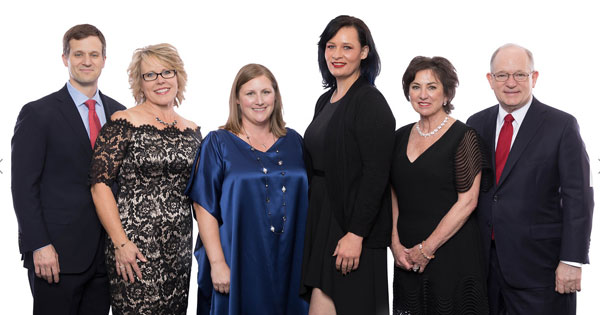 Kerri Tuttle (center) receives congratulations on her BAYADA Physical Therapist Hero of the Year award from (left to right) BAYADA CEO David Baiada, Director Brandy Owen, Director Vanessa Hartman, Former Director Ann Baiada, and Founder Mark Baiada.
Tucson resident Kerri Tuttle, PT, received the national Physical Therapist Hero of the Year award from BAYADA Home Health Care, a leading provider of in-home care, for exemplifying the highest standards of care and demonstrating the company's core values of compassion, excellence, and reliability. Tuttle received this prestigious honor in front of thousands of attendees during the company's annual awards ceremony on May 19 in Charlotte, NC.
"Kerri has always been a guardian of The BAYADA Way, which is expressed through her calm nature and helpful attitude," said Brandy Owen, director of the BAYADA office in Sierra Vista, who pointed out that in addition to her role as physical therapist providing care throughout Sierra Vista and surrounding rural areas, Tuttle took on the additional responsibility of training new employees as a preceptor. "She has been a fantastic resource and goes out of her way to learn the most current issues and treatments. She also helps to promote innovation and new practices in the home health setting."
Stephanie Tyson, BAYADA Social Worker, reflected on her experience with Tuttle as her preceptor. "Kerri helped to bridge the gap between what the field needed from me and the patient's needs," said Tyson. "Her communication helped me feel comfortable early on in my role and helped me integrate easily to the interdisciplinary team."
It's all part of the job according to Tuttle, who now works out of the BAYADA office in Tucson. "You have to do what makes you happy," said Tuttle, who has worked as a BAYADA Physical Therapist for three years. "I came to BAYADA so I could help people the way I want to, provide personal attention, and help support my colleagues in becoming better clinicians."
Tommie Teel, the daughter of a BAYADA client who needed therapy services after a hospital stay said that Tuttle was "totally knowledgeable, genuinely kindhearted, and definitely (a) keeper." She added that after receiving care from Tuttle, "I saw definite improvement in mom's mobility."
"We are so proud of Kerri for receiving this well-deserved recognition," said BAYADA Director Owen. "Kerri makes sure that her team all feels included, that they're on the same page, and feel a camaraderie to make sure the team is first and foremost. Kerri does those things because she's a natural at it. That's a true testament to Kerri's personality and how she just draws people to her."
Watch what makes Kerri Tuttle a Hero.
Established in 1999, the Hero Program recognizes care professionals who consistently demonstrate the BAYADA core values of compassion, excellence, and reliability. Each quarter, clients and peers nominate their local heroes. From the local heroes, division heroes are selected and ultimately four national heroes are chosen from among the following disciplines: registered nurse, licensed practical nurse, therapist, and home health aide or certified nursing assistant. The four national heroes are recognized at the annual awards ceremony.