BAYADA Home Health Care Client Services Manager (CSM) Candice Ford was selected among hundreds of hopefuls for the prestigious Linda Siessel Award for Excellence in Client Services Leadership by BAYADA Home Health Care, a leading non-profit home health care provider. Ford, who works for BAYADA's Pittsburgh Adult Nursing office, was honored for her unwavering support of BAYADA clients and the skilled professionals who care for them.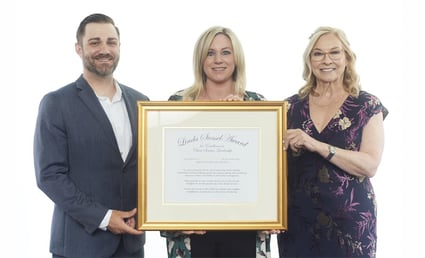 Ford, who has worked for BAYADA for almost nine years, has exemplified The BAYADA Way, the company's philosophy for providing quality care with compassion, excellence, and reliability. According to her nomination, Ford makes it a priority to meet all her clients and their families to obtain a better understanding of their needs and desires, fulfilling their expectations and setting BAYADA apart from competitors. An avid listener, professional, organized, and efficient, she is a role model to other CSMs.

"Candice is deserving of this tremendous honor - her selflessness and compassion towards others and her wonderful rapport with the clients, field staff, and co-workers speak volumes," said Clinical Manager Leslee B.Clickett, one of the people who nominated Ford. "Candice is not only incredibly determined to provide quality care, doing whatever it takes to ensure her clients are covered, she has a love for what she does. I have never worked with anyone with the work ethic of Candice."
Ford was instrumental in helping the Pittsburgh Adult Nursing office obtain its independent Medicare licensure in summer 2019, managing her already large caseload and the addition of ten pro bono clients without hesitation, enabling the office to move forward to make a greater impact in the community.
"Clients and their families are what motivate me to go the extra mile," said Ford as she accepted her award. "I am also deeply inspired by my field staff, and I truly believe that nurses are some of the best people on the planet."
Siessel presented the award at the company's annual awards meeting held in Washington, D.C., on Saturday, May 21.
"Candice makes it her priority to meet every client and family she serves to fully understand their needs and meet their expectations," Siessel said. "She mentors others, manages a large caseload with great compassion and determination, and takes on long hours, additional responsibilities, and selfless acts of generosity that go above and beyond – she is a shining example of The BAYADA Way in action."
The Linda Siessel Excellence in Client Services Leadership Award
Named in honor of Chief Operating Officer Linda Siessel, whose 42-year tenure at BAYADA includes roles as a director, division director, and practice president, this annual award pays tribute to a client services manager who exemplifies Linda's commitment to client service is chosen each year and demonstrates excellence in advocating for home health care clients, building relationships, resolving challenges, and supporting company growth.