BAYADA Home Health Care Client Services Manager (CSM) Michelle Moran of Delran, NJ was chosen from among a record-setting number of hopefuls to win the Linda Siessel Award for Excellence in Client Services Leadership by BAYADA Home Health Care, a leading nonprofit health care provider. Moran, who works at BAYADA's Mt. Laurel, New Jersey Pediatrics office, was selected for her ability to multitask complex caseloads with both grace and determination.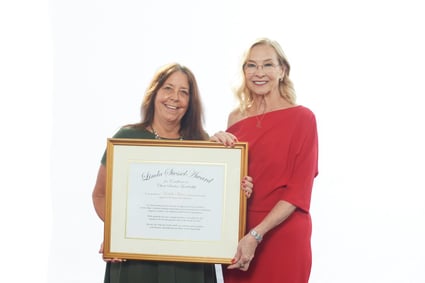 Moran, who has been with BAYADA for 28 years, has positively impacted hundreds of clients, families, and nurses. She embodies The BAYADA Way, as she takes a personal approach to service, resulting in lasting relationships with a number of her clients. Moran is credited for mastering her role and gaining the unwavering support of clients and employees.
"I am always in awe of Michelle as she seamlessly handles every bump in the road with ease," Skilled Nursing Practice President Cris Toscano said. "We are so lucky to have Michelle, who in addition to being one of the very best CSMs, is a wonderful person who I am honored to know."
In what was her fourth nomination for the Linda Siessell Award, it was Moran's knack for building relationships that set her apart from the crowd this time. Fittingly, a client with whom Moran has formed a decades-long friendship with offered one of the most pertinent testimonials.
"When it comes to being a CSM," the client shared. "Her kind helpfulness knows no end, and I'm proud to call her my friend."
Moran received the prestigious award at BAYADA's annual Awards Weekend held recently in Washington, D.C. As helpful as she is unassuming, Moran admitted she didn't expect to come away with the prestigious award and, like always, placed the spotlight on others.
"Everybody that works in this room should be recognized for the work we do," she said. "That's why I'm still so happy doing the work that I do every day. I can't believe I'm up here and I can't believe how lucky I am. I've been here since 1989, and I'm so blessed."
The Linda Siessel Excellence in Client Services Leadership Award
Named in honor of Linda Siessel, whose 42-year tenure at BAYADA includes roles as a director, division director, practice president, and chief operating officer, this annual award pays tribute to a client services manager who demonstrates excellence in advocating for home health care clients, building relationships, resolving challenges, and supporting company growth.
Learn more about the Hero Awards and Excellence Awards at jobs.bayada.com and apply to start your career in caring today.