Renee Sparks awarded the 2022 Mary Hockstein Award for Excellence in Enterprise Support
BAYADA Director of Learning Support Renee Sparks was recently chosen out of hundreds of hopefuls to win the Mary Hockstein Above and Beyond Award for Excellence in Enterprise Support by BAYADA Home Health Care, a leading non-profit home health care provider. Sparks, who works at BAYADA's Pennsauken, NJ Global Support Center, was selected as a change leader who builds teamwork and personal connection.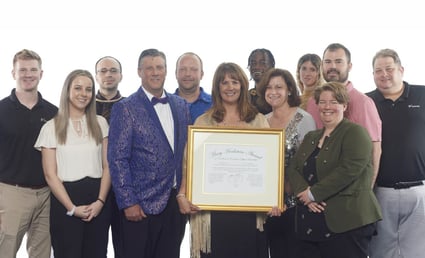 Sparks, who has been with BAYADA for more than 30 years, played a key role in the organization's COVID-19 response. Her team was responsible for the health and safety of hundreds of BAYADA employees, responsible for shipping critical care supplies to every BAYADA service office nationwide, while also facilitating several vaccine clinics. One nominator said Sparks was a "port in the storm for our team in the middle of the COVID-19 crisis".
"Renee trained me at BAYADA In 1995 and 26 years later, she still inspires me," said BAYADA Office Director Mary Kleva, who nominated Sparks. "She helped to develop many of the programs and processes BAYADA uses today, and her way of communicating offers a sense of calm. She makes time for everyone and brings the benefit of her knowledge and experience to our everyday challenges.
Sparks accepted the prestigious award from BAYADA Chief People Officer Eric Thul at the company's annual awards meeting held in Washington, D.C., on Saturday, May 21.
"Renee is revered by her team for her 'deep well of compassion,' and her trainees call her 'enthusiastic, engaging, and awesome,'" said Thul. "As a change leader in the COVID-19 pandemic, she demonstrated grace and integrity under pressure, building an unprecedented 'depth of teamwork and personal connection' that helped ensure the well-being of her teammates and the health and safety of thousands more employees."
Sparks, who worked with Hockstein for many years, was very grateful for the award. "In working with Mary, I found that our values were the same - we wanted to help guide and shepherd new employees, teach them what we had learned from Founder and Chairman Mark Baiada and The BAYADA Way, and show love," Sparks said. "I was fortunate to spend so much time with her, and am so honored to have this award, and to have my name forever connected with her."
The Mary Hockstein Award for Excellence in Support Leadership
The Mary Hockstein Award is named in memory of the beloved BAYADA staff supervisor, recruiter, trainer, and employee relations specialist Mary Hockstein, who exemplified The BAYADA Way. Annually, the award recognizes a director-level-or-below enterprise support employee who exemplifies Hockstein's legacy of commitment, professionalism, and passion toward their work—making others in the organization feel valued, special, and respected.
For more information about home care services or to join BAYADA's community of compassionate caregivers, visit bayada.com.