BAYADA Home Health Care Director of Practice Technology Engagement Michelle Cashwell was chosen from among one dozen exceptional hopefuls to win the Mary Hockstein Award for Excellence in Enterprise Support by BAYADA Home Health Care, a leading nonprofit health care provider. Cashwell was selected for her compassion and commitment to innovation.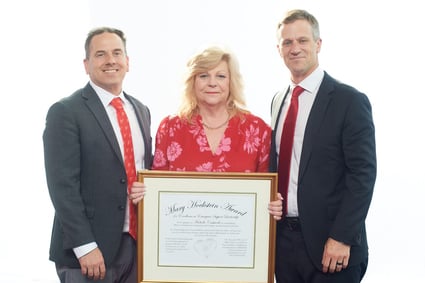 Cashwell, who has been with BAYADA for 30 years, was the second information technology (IT) employee hired and was instrumental in laying the groundwork for the technology function at BAYADA. She has been instrumental in supporting platform migrations, rolling out point-of-care technology, and developing systems that support BAYADA's more than 31,000 caregivers, clinicians, and administrative employees.
"BAYADA has gone through so many evolutions throughout Michelle's career," said BAYADA Chief of Staff Eric Thul, during the awards presentation at BAYADA's annual Awards Weekend held recently in Washington, D.C. "But one thing has remained constant, and that is her commitment to The BAYADA Way value to be friendly and let our smiles be seen and felt. That is what I think of when I think of Michelle."
Cashwell received an overwhelming number of glowing testimonials touting everything from her compassionate leadership to being a true problem solver. "Michelle is the one who thinks through some of the thorniest and complex problems that get thrown at us," shared BAYADA Chief Information Officer Ed Malinowski.
In addition to the Mary Hockstein Award, Cashwell also accepted her 30 Years of Service Award from CEO David Baiada and Founder and Chairman Mark Baiada during the ceremony, attended by more than 3,000 employees from across the country.
"To receive this incredible honor while celebrating my 30 years is just icing on the cake," Cashwell said. "I would not be here today and could not have accomplished what I have without the hard work and dedication of the people I've met and worked with throughout the years. It's always a team effort."
The Mary Hockstein Award for Excellence in Support Leadership
The Mary Hockstein Award is named in memory of a beloved BAYADA staff supervisor, recruiter, trainer, and employee relations specialist. The recognition is given annually to an employee who exemplifies Hockstein's legacy of commitment, professionalism, and passion toward their work—making others in the organization feel valued, special, and respected.
Learn more about the Hero Awards program and Excellence Awards at jobs.bayada.com and apply to start your career in caring today.