BAYADA Awarded Outstanding Corporate Partner Award by Aging Life Care Association®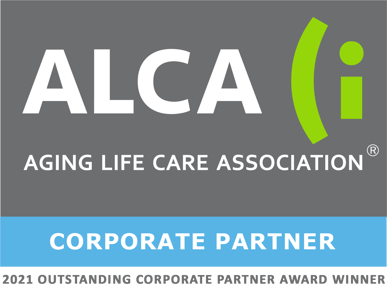 Philadelphia, PA – BAYADA Home Health Care, a leading non-profit home health care provider, was recently honored as the 2022 Annual Aging Life Care Association (ALCA) Outstanding Corporate Partner award recipient, highlighting BAYADA's exceptional work to support the work of Aging Life Care Professionals®.
ALCA is a nonprofit association with over 2,000 members, that leads their community of Aging Life Care Professionals through continuing education, professional development, and the highest ethical practices. The Association uses a holistic, client-centered approach to caring for older adults or others facing ongoing health challenges. Corporate partners are industry supporters of the ALCA who have an interest in the field, including home health agencies, like BAYADA, which has supported the organization for more than eight years.
"BAYADA is a long-time supporter of the association at both the local and national levels. The BAYADA team recognize the value of partnering with an Aging Life Care Manager® to care for clients in the home," said ALCA CEO Julie Wagner. "ALCA is grateful for BAYADA's support, participation, and engagement with our members."
BAYADA Director Lauren Hirsch, LCSW accepted the award on the company's behalf at the organization's business meeting in Orlando, FL on April 7. "It was an honor to accept this award on behalf of the entire BAYADA team," said Hirsch, "it is a testament to our commitment to serving vulnerable individuals and providing the highest quality care. We are devoted to supporting Associations like ALCA that make it possible for healthcare professionals to prioritize learning and keeping up with best practices."
Since 1975, BAYADA Home Health Care has had a special purpose to help people have a safe home life with comfort, independence, and dignity. With more than 350 offices in 22 states and 8 countries, BAYADA provides a full range of clinical care and support services at home for children and adults of all ages.
For more information about BAYADA Home Health Care visit our website or call (800) 305-3000.
About BAYADA Home Health Care
BAYADA Home Health Care was founded by J. Mark Baiada in 1975 and provides nursing, rehabilitative, therapeutic, hospice and assistive care services to children, adults and seniors in the comfort of their homes. Headquartered in the Greater Philadelphia suburbs based in New Jersey, BAYADA employs more than 26,000 nurses, home health aides, therapists, medical social workers and other home health care professionals who serve their communities in 23 states from 347 locations, with locations in Canada, Germany, India, Ireland, New Zealand, South Korea and the United Kingdom.
In 2018, Baiada oversaw the company's unprecedented transition to a non-profit organization to ensure BAYADA's mission, purpose and business model would endure, and to help BAYADA realize its vision of helping millions of people worldwide experience a better quality of life at home; in early May 2019, the organization served its one millionth client. Learn more about personal care services at BAYADA Home Health Care.
About Aging Life Care Association
The Aging Life Care Association® (ALCA) was formed in 1985, originally as the National Association of Professional Geriatric Care Managers, to advance dignified, coordinated care for older adults in the United States. With nearly 2000 members nationwide, members have cared for about two million older adults over its history. ALCA Members are distinguished from others practicing care management as they must meet stringent education, experience, and certification requirements. Members may be trained in any of number of fields including, but not limited to counseling, gerontology, mental health, nursing, occupational therapy, physical therapy, psychology, or social work; with a specialized focus on issues related to aging and elder care. For more information or to access a nationwide directory of Aging Life Care Professionals, please visit http://www.aginglifecare.org. Learn more about what an Aging Life Care Professional does by watching this video.
Contact:
Maddie Powell
mpowell@vaultcommunications.com