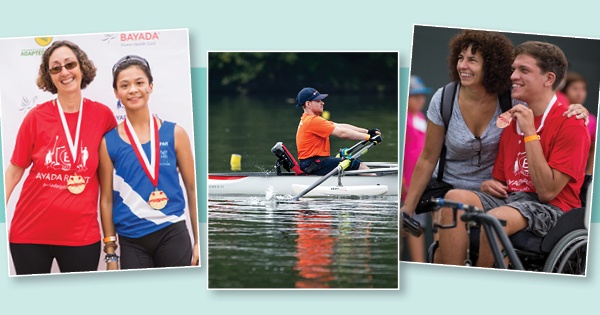 The nation's oldest and largest all-adaptive rowing competition for athletes with disabilities has been going strong for 36 years on the Schuylkill River in Philadelphia. This year's BAYADA Regatta on August 12 was another great event with more than 200 rowers from all over the United States. Athletes from Colorado, Washington DC, Florida, New Hampshire, Massachusetts, New York, Kentucky, Pennsylvania, Maryland, New Jersey, Virginia, and West Virginia participated.
BAYADA Founder and Chairman Mark Baiada, sponsors this event each year because it provides freedom on the river for rowers with disabilities. "If you're in a wheelchair and you're put out on the water in a boat, at that moment you're equal to everybody else out there," he says. "The regatta is fun, recreational, and competitive."
The event offered something for the whole family--opening with the national anthem sung by a former BAYADA employee, followed by races and medals throughout the day. BAYADA volunteers handed out drinks, pretzels, and lunches. Couples watched the races then took a stroll on Kelly Drive, and kids stopped by the Kids Corner for face painting and arts and crafts.
Local news channels covered this year's BAYADA Regatta, reaching more than 600,000 people:
Congratulations to all those who competed in this year's event!