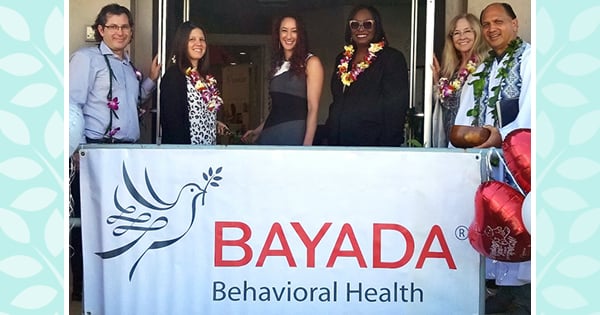 Pictured from left to right are Practice President Behavioral Health Support Jeff Krepps; Behavior Services Manager Rachel Miller, LBA, BCBA; Area Director Eliza Lipp, LCSW; Associate Director Marchet Fullum; Chief Operating Officer Home Care Services Linda Siessel; and Minister Kumu Kekoa.
A life-size wall made of giant Legos provided the perfect backdrop during a ceremony to mark the grand opening of BAYADA's Center-Based Services program on Oahu. The celebration follows the successful launch of center-based services on Maui in 2017. BAYADA Home Care is a nonprofit organization that provides behavioral health services throughout Hawai'i
The Lego wall is a signature feature of the center, along with brightly colored floor mats, a crash pad, a climbing structure, bean bag chairs, crayons, puzzles, books, balls, and blocks. It's all used as part of an evidence-based approach called applied behavior analysis (ABA) therapy to treat individuals with an autism spectrum disorder and related learning or social disorders.