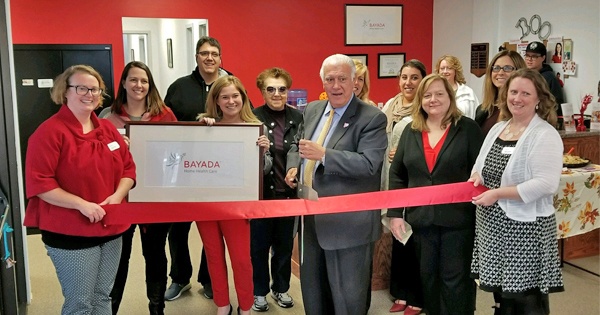 Manchester, NH Mayor Ted Gatsas (center, holding scissors) joined BAYADA staff for the grand opening of the company's new location in Manchester
As Mayor Ted Gatsas presided over a ribbon cutting ceremony, members of the community, local businesses and health care organizations, nurses, home health aides, staff, and patients came together to celebrate the grand opening of BAYADA Home Health Care's new location in Manchester, NH.
BAYADA has provided assistive care services, such as help with bathing, grooming, and meal preparation, in the Manchester area since 2015. In their new location at 33 Lowell Street in Manchester, the Assistive Care office shares space with the first BAYADA office to provide pediatric care in New Hampshire.