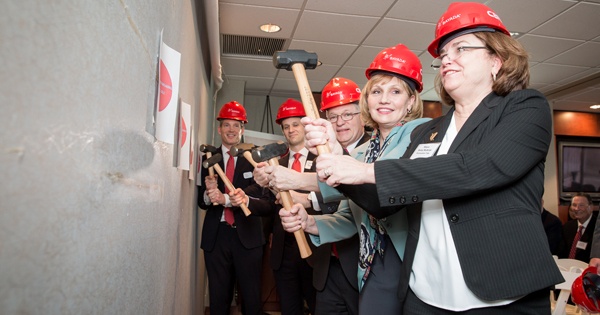 Getting ready to symbolically begin renovations of BAYADA's new buildings are, (from left to right) BAYADA Chief Financial and Administrative Officer Tom Sibson, BAYADA Practice President David Baiada, BAYADA President and Founder Mark Baiada, NJ Lieutenant Governor Kim Guadagno, and Pennsauken, NJ Mayor Betsy McBride.
BAYADA Home Health Care, a national provider of home health care services to children, adults, and seniors from more than 310 offices in 22 states, recently hosted a ceremony to mark the start of renovations on its new office space at 4300 and 4350 Haddonfield Road in Pennsauken, NJ.
Lieutenant Governor Kim Guadagno served as keynote speaker at the ceremony, which also featured U.S. Congressman Donald Norcross's District Director Mary Cruz, Pennsauken Township Mayor Betsy McBride, and BAYADA President and Founder Mark Baiada.