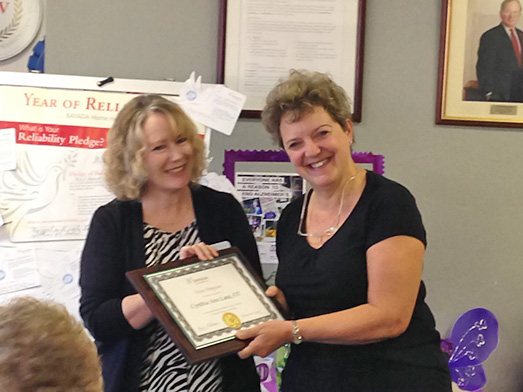 Cynthia Lane, OT (right) receives her Hero Award from Director Barbara Springs, RN, BSN
BAYADA Home Health Care named Cynthia Lane, an occupational therapist from its west Tucson office, as National Hero of the Quarter. The quarterly award is presented to employees on national and local levels who demonstrate BAYADA's core values—compassion, excellence, and reliability—through extraordinary deeds in their work.
Lane's compassion is shown by the special place in her heart that she holds those who are most affected by traumatic events or unplanned illnesses. She knew how much one client, who lost the ends of her fingers due to illness, dreamed of doing her own hair. Lane went out of her way to find the right hair dryer, and helped her patient do her hair and apply her own makeup. "This was a special case where Cyndi showed how much she cared," said Lisa Olson, BAYADA clinical manager.