"Sunday Blues" is a term psychologists coined to describe the dread and anxiety that many people feel on the eve before the work week. In a July 2012 poll, four out of ten adults said they get the "Sunday Blues".
The cure lies in finding something you love to do. "I work seven days a week, morning, noon, and night," says BAYADA Home Health Aide Kimberly Grehan. "I love my job. I would do more if I could."
Like Kimberly, women and men from diverse backgrounds are discovering a passion for working at a home health care agency. Many are nurses who prefer the rewards of a home health career to working in a hospital or nursing facility. Others are individuals who start or switch to a health care career for a variety of personal and professional reasons, and then enjoy the meaning and purpose they find in their lives.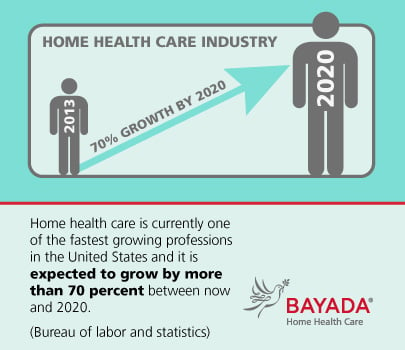 Consider the benefits of a career in home health care:
The privilege of making a difference. A career in home health care allows you to truly make a difference in the lives of clients and their families. Home health professionals enjoy the personal relationships they build and the sense of accomplishment that comes with knowing they are enhancing an individual's quality of life.

The ease of a flexible schedule. Home health care nurses and aides work as much or as little as they wish, making a career in home health perfect for compassionate people at any stage of life. Whether you're pursuing your education, raising a family, returning to the workforce, or you are semi-retired, home health offers rewarding part-time and full-time job opportunities to fit any schedule, 24 hours a day, seven days a week.

The comfort of companionship for those who need it. Numerous studies have shown that socially isolated older adults often feel lonely and depressed, are less physically active, and may be subject to high blood pressure. Home health care professionals can provide social interaction and companionship. The specific health benefits of such meaningful relationships can include lower blood pressure, reduced risk for mental health issues, and reduced risk for Alzheimer's disease, cardiovascular problems, and other conditions. Both clients and caregivers cite the personal rewards of these important relationships.

The opportunity to make life more manageable for clients of all ages. Most of us take our ability to manage activities of daily living for granted. But for those who have disabilities or injuries, and aging adults, daily tasks such as grooming, bathing, toileting, eating, and mobility may pose special challenges. A job in home health care affords you the opportunity to do meaningful work every day by helping clients manage their activities of daily living in the comfort of homes.

The ability to deliver complex care at home. Infants, children, and adults with wounds, injuries, or chronic conditions, and individuals who depend on high-technology medical equipment for nutrition and respiration, all depend on home health care professionals for daily support. Nurses working in home health make it possible for their clients to avoid institutionalization in a hospital or facility, and relieve the burden of care for their clients' families.

Being able to help clients remain comfortable at home. When competent, reliable family caregiving is unavailable, families must often face the unhappy prospect of institutionalizing loved ones who require support or complex medical care, or who are no longer able to care safely for themselves. Home health care providers change lives by helping their clients to remain safe and comfortable in their own homes and communities.

On-going growth and Professional development. A career in home health offers opportunities for professional growth in a rewarding field. Professional caregivers will continue to benefit from a supportive environment that nurtures career development with many options for training and access to leading-edge technologies, as well as supervision and defined paths for advancement.

The ability to specialize your skills. Home health care can enable you to focus your skills in a specialized practice. Allowing you to work in pediatrics or adult care, so that you can build a career working within a specialty you most enjoy. Whether you are inspired by the idea of helping new parents bring their infant, with complex medical needs, home from the hospital or reduce hospital visits for adults with special needs, home care can put you on the right path to success.

High demand for home health care jobs. America is bracing for an aging population. According to the U.S. Administration on Aging, by 2030 there will be 72.1 million persons 65 years or older—more than twice the number found in 2000—representing 19% of all Americans. As the "baby boomers" age, the need for qualified home health care professionals will continue to grow, ensuring a strong demand for nursing and home health jobs.

A personally rewarding career. The majority of nurses and aides working in home health care report a deep sense of fulfillment and job satisfaction. While other jobs may offer some comparable benefits, not many offer home health's potent combination of flexible schedules, career growth, and—most importantly—the opportunity to do meaningful work that changes lives, families, and communities.