Newsweek Names BAYADA Among America's Greatest Workplaces for Diversity
I am thrilled to share that BAYADA has been named as one of America's Greatest Workplaces for Diversity in 2023 by Newsweek Magazine!
The prestigious honor recognizes the best workplaces in the United States by state and by their performance in the following categories: diversity, empowerment of women, veterans and job starters, LGBTQ+ and more.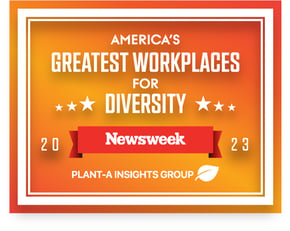 "I am so proud that BAYADA has received this national recognition," said CEO David Baiada. "Now two years in, I know this journey will be a part of our BAYADA DNA for generations to come. It has become ingrained in our culture and evolution as an organization, as professionals, and as allies."
DEI Publishes its First Annual Progress Report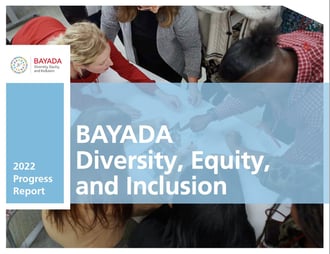 The announcement from Newsweek Magazine coincides with the publication of the first DEI Annual Progress Report. Within these pages, our diversity journey comes alive, shining a spotlight on the activities and programs that earned BAYADA this national distinction.
The report details the meaningful work of the Employee Resource Councils (ERCs), as well as data on the company's demographics, updates on goals and initiatives, and highlights from our successful training and education programs.
Read the 2022 DEI Annual Progress Report >>
The Evolution of our DEI Program
There are so many to thank for this hard-earned recognition, starting with David. In 2020, he had the courage to confront issues of deep-seated racism and the murders of George Floyd and other Black Americans—and the vulnerability to admit we were not living up to our promise to speak up and do more.
With the support of BAYADA's senior leaders, the intentional process of promoting diversity, equity, and inclusion began. It started by partnering with The Diversity Movement, who helped us create a dedicated Diversity, Equity, and Inclusion (DEI) office, shared their resources and expertise to help bring DEI Resources to life, lent their support for countless webinars and training sessions, and helped develop our robust resource councils. They include: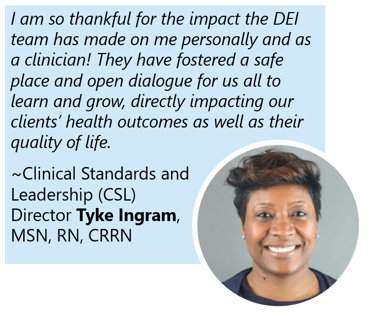 Military Community Network (MILCOM)
PRIDE
Racial and Ethnic Diversity (R.E.D.)
Solutions for Accessibility and Equality (S.A.F.E.)
Women in Limitless Leadership (W.I.L.L.)
The active and passionate engagement from the members of our ERCs has helped to shape and define BAYADA's commitment to DEI. Heartfelt appreciation goes to every employee who joined a council and the allies who supported their work.
The comprehensive DEI program we have today would not have been possible without the collaboration of dozens of support and service offices, and I am proud to thank them all.
Finally, congratulations to our DEI office team who helped to encourage us all to be our authentic, true selves.