The Bureau of Labor and Statistics says "Registered nurses (RNs) provide and coordinate care, educate patients and the public about various health conditions, and provide advice and emotional support to patients and their family members."
Nurses who specialize in pediatric care devote their skills to caring for children from infancy to adolescents. Pediatric home care nurses manage diverse diagnoses and high-tech equipment, taking a family-centered approach to providing care. As a pediatric nurse you can choose a variety of paths but here are five reasons to choose pediatric home health care.
1. Provide one-on-one care
With a career in home health care you can get back to the heart of nursing, providing skilled services to one client at a time.
2. Expand your skill set
As a pediatric home care nurse. you can expand your knowledge base and enhance your skills. With BAYADA Home Health Care, you can receive pediatric training through specialized classes, including an introduction to pediatric care.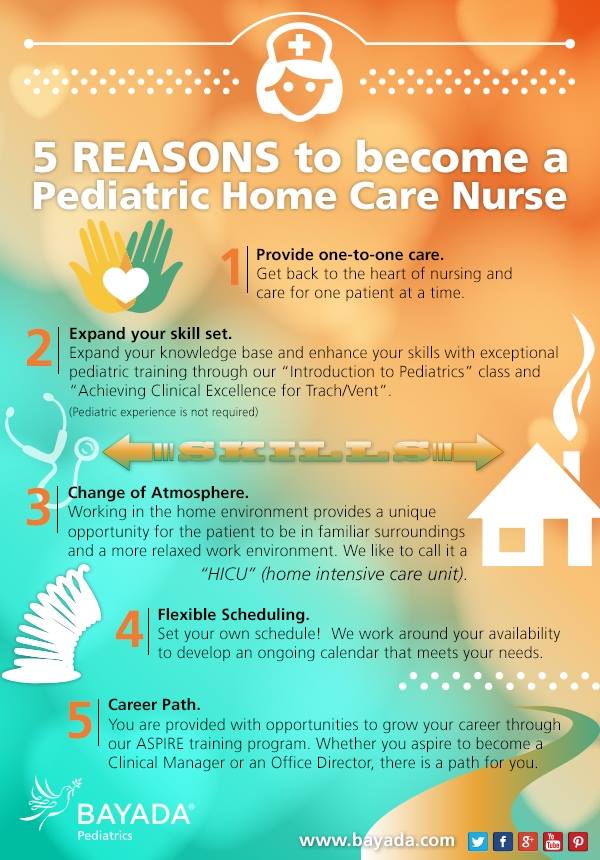 3. Change of Atmosphere
Working in the home environment provides a unique opportunity for the client to be in familiar surroundings. This allows for a more relaxed work environment, typically called the "Home Intensive Care Unit" (HCU).
4. Flexible Scheduling
Whether you are exploring home health care to take on extra shifts or as a new career path, you can enjoy flexibility. We work around your availability to develop an ongoing calendar that meets your needs, so you can set your own schedule.
5. Career path
In pediatric home health care you will have opportunities to learn and grow your career. BAYADA offers programs like ASPIRE training to help you get on the right path. Whether you aspire to become a clinical manager or an office director, there are many opportunities to explore.
Explore a career in pediatric home care with BAYADA today and learn about opportunities in you area.