A Spotlight Interview with Hospice Social Worker, Kiara Lambertson, LSW
BAYADA salutes and thanks social workers everywhere who are making a real difference in people's lives, at every stage of the human journey. Social work takes different forms, across many settings. We sat down with Medical Social Worker Kiara Lambertson, LSW to spotlight what it's like to be a social worker on an interdisciplinary home hospice care team.
Kiara's team provides comprehensive medical, social, emotional, and spiritual care for patients and families through the end-of-life process, with a special philosophy of care—to help people enjoy their best possible quality of life and make the most of their time together.
Kiara is 29 years old and has been pursuing her career in social work for eight years. A year ago, she was thrilled to join BAYADA at Inspira Hospice in Woodbury, New Jersey—serving a rural community with a small-town feel, only 10 miles outside the city of Philadelphia, PA..
What led you to hospice care?
When you choose to work in a caregiving profession, most of the time it's because you want to make a difference.
I feel like being a social worker and even going into hospice was a calling for me. Initially, I was majoring in Psychology; then I took an Intro to Social Work course which opened my eyes to the vast populations I could work with. I appreciated that social workers advocate for people in need, and get to see them and care for them in their own environment.
Where have you been employed before?
I worked with another hospice agency prior to joining BAYADA, and I've also done Social Work internships—primarily working with children.
Is there a difference between a social worker and a medical social worker?
Medical social work is one specialty out of a large range of social work that you can do. We typically serve clients within the health care realm, so, people being served by hospice, a hospital, home care, long-term care facilities, et cetera. It's social work as part of a patient's comprehensive health and wellness.
What does a hospice social worker do?
In hospice care, a medical social worker provides emotional support and grief counseling to patients and families near the end of life. We work with an interdisciplinary group of other clinicians and caregivers to assist with the comfort and quality of life for people with a terminal diagnosis. The role can also entail connecting people with community resources and providing education on the dying process.
Can you share an example of how you've helped patients?
I try to help patients tap into their own strengths to get to a level of comfort and peace. There was one woman I worked with who just wanted the opportunity to talk about her dying experience without the fear of guilt or judgment. I think allowing the freedom of expression can be very therapeutic and helps patients during their healing process.
What do you like best about your job?
I consider myself a people person, so I enjoy having the opportunity to talk and listen to patients and families during the day. I have an awesome hospice team, which definitely makes the job more enjoyable. The people I've worked with have helped me in my understanding and learning process.
There's a lot of comfort in knowing that many of our patients have peace, support, and closure during their journey.
What type of degree or education do you need to become a social worker?
It depends on what type of social work you'd like to do, and what state you're in. To be a hospice social worker in New Jersey, an LSW (licensed social worker) is required. To get your state license, you need a master's degree in social work (MSW).
Some other credentials for social workers are:
BSW (bachelor's degree)

MSW (master's degree)

DSW or PhD in Social Work (doctoral degree)

LCSW (licensed clinical social worker)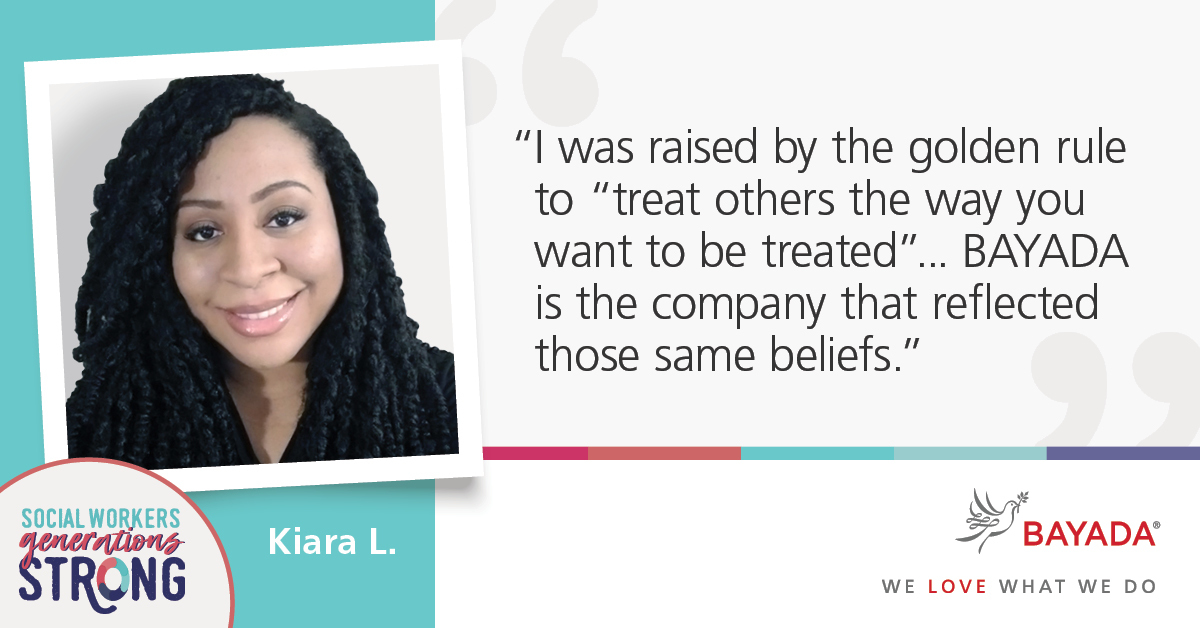 Why did you choose to work for BAYADA?
I was raised by the golden rule to "treat others the way you want to be treated," and I wanted to work for a company that reflected those same beliefs. I believe that quality in health care is important, and BAYADA shows that with their core values of compassion, excellence, and reliability.
What would you say to people who are considering a social worker position at BAYADA?
It's one of the best decisions I've made. It's such a supportive environment—you're going to love what you do!
What have you learned as a social worker over the years?
As cliché as it may sound, self-care is important. You can't pour from an empty cup. To be able to help others, you have to be at a point where your personal battery is not on low. Doing a simple check-in with yourself, what you're feeling and how you're processing what is happening during the day, is a healthy practice. Energy is contagious, and it's important to be mindful of that.
What does a typical day for you look like—if there is such a thing as a typical day?
When you're in health care, the day can change quickly depending on what may be going on. Typically, my day starts with reviewing emails and patient records. I like to stay informed on what might have changed from the night before or over the weekend, which helps me create a schedule. Once I have a schedule, then I'll visit patients in facilities, contact their family members, and discuss the plan of care with caregivers.
I provide emotional support with grief counseling and document any interventions that were done throughout the day. If there's a change in a patient's status, then there will be collaboration with my team for symptom management.
We have interdisciplinary team meetings every other week where we have the opportunity to discuss plans of care. Throughout the week I may also have family meetings, clinical supervision, facility memorials, and facilitate a grief support group.
How many patients do you usually see in a day?
Anywhere from three to six patients per day.
What are some of your biggest challenges in your role?
I think assisting families in their understanding of what a patient may want or not want in their dying process can be a challenge. Anticipatory grief can look different for everyone, and just because a patient has accepted their end of life phase does not always mean their loved ones have, too.
I also try to let go of the idea of being a perfectionist. There are multiple ways to strive for excellence. No one is perfect, and that's okay.
Can you share any reflections about lessons you've learned as a social worker?
There are so many! I've learned:
Being an active listener can be extremely beneficial.

I have to be patient with myself during my learning process.

Gaining a true connection with people helps build rapport and relationships.

Sometimes people fear what they don't understand, and anger can be a mask for sadness.

Treat others the way they want to be treated.

We have a vast amount of support, education, and care available when we enter this world, and I think the same loving practice should be provided when we leave.
What's next for you in your social work career?
I hope to continue providing support and quality care, and I look forward to getting my clinical license (LCSW), so I can apply my knowledge of theoretical practices with the patients and families I work with.
How does a licensed clinical social worker differ from what you're doing now?
With an LCSW, it just opens up more doors with what you can do in counseling. I could provide psychotherapy, diagnose, go into private practice, et cetera.