For most of his career, Charlie Yohe worked in the business world. First a Certified Public Accountant (CPA) and then the owner of his own video rental store in Chicago, Charlie found success in his two varied professions. Eventually, though, as the video rental market declined, Charlie closed his business and headed back to the East Coast. Although he intended to restart his accounting career, Charlie found that difficult because he had been out of the field for more than a dozen years, and job hunting in a recession only made it worse. After some soul-searching, he decided he wanted to do something different – to pursue a career where he could help other people. That's when his personal life and his career aspirations crossed paths.
Charlie met his wife, Linda, in 2009 while her dad, Alex, was living with her. It wasn't long before they discovered that Alex's "quirky behavior" was due to dementia, and he soon required 24/7 supervision. A team of BAYADA Home Health Care professionals including nurses and therapists (occupational, physical, and speech language) provided some hours of care, but the bulk of the caregiving fell on Charlie's shoulders.
Laura McCarthy, MS, CCC-SLP, a speech language pathologist (SLP) with the BAYADA Home Health Care office in Gloucester County, NJ, (GCV) worked with Alex until his passing, helping him regain some of his speaking ability that he was losing to his advancing dementia. During Alex's therapy sessions, Charlie intently observed what Laura did to help improve Alex's communication. Charlie was so impressed with Laura's skills, passion, and compassion, that he realized what he wanted to do now – he decided to pursue a career as a speech language pathologist.
Leading by example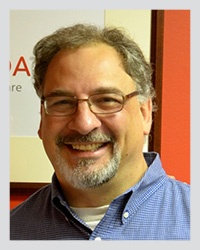 "I admired the way she worked with Alex. It was very inspiring to me," says Charlie. "In fact, everyone at BAYADA had been so nice, so knowledgeable. They were so helpful when I was taking care of Alex. Always willing to share little strategies to help me deal with Alex's changing behaviors."
Charlie's "light bulb moment" also meant that he had a lot of schooling and challenges ahead. He needed to complete several pre-requisite undergraduate courses before he could even consider pursuing a master's degree, which is necessary to practice. He dove in headfirst, knowing that he had to give it his all if he were going to make his dream a reality.
He reached out to Laura to let her know of his interest in becoming an SLP and that she was his inspiration. This came as a complete surprise to her, but she was honored and thrilled.
"From my first interactions with Charlie, I was touched by the compassion and patience he exhibited toward Alex. I knew he'd be perfect in this role, so I was determined to help him in any way I could," says Laura.
Charlie asked Laura if he could shadow her on appointments to fulfill his observation hours for his degree. Laura's director, Patti DeMuro, enthusiastically supported Charlie's goal, as well, and allowed him to go through the steps needed to be safe to observe Laura in the home.
Over the following few months as Charlie worked on his straight A's in school, Laura went out of her way to share her knowledge. She often invited him to many lectures and presentations at Temple University, where she is currently pursuing her doctorate degree in cognitive neuroscience. He accepted each invitation and was a like a sponge, absorbing every bit of information about speech language pathology. Laura introduced Charlie to one of her professors and now Charlie regularly volunteers in her research lab.
"Charlie is an amazing person," says Laura. "He has everything it takes to be successful - a high caliber of professional and analytical skills, integrity of character, and a genuine drive to provide the highest quality of care for others."
Charlie knew he had to work extra hard to get into the extremely competitive master's program. With Laura's support – and her glowing letter of reference – he was accepted to Temple, his first choice.
"What sprouted from the seed of watching Laura administer therapy to Alex became an incredible journey that culminated in a dream come true," says Charlie. "I simply would not be here if I had not met Laura and I owe her a debt of gratitude. She walked in my door and completely changed my life."