Each year, International Women's Day is a chance to celebrate the social, economic, cultural, and political achievements of women. But March 8 is more than just a day for celebration; it's a day for action. It's another opportunity to call for accelerating gender equality.

Learn more about job opportunities at BAYADA>>

2020 marked the 100th anniversary of the 19th Amendment. Yet, according to a 2020 World Economic Forum report, it will be another 257 years before we close the gender gap in economic opportunity and participation across the globe. So, fittingly, the 2021 theme is "Choose to Challenge." Choose to challenge and call out gender bias and inequality. Choose to challenge the typical notions of what leadership looks like in the workplace. Choose to challenge the status quo.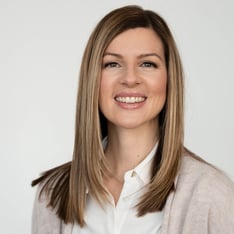 BAYADA wanted to dive into what choosing to challenge would look like in the workplace. We talked to Megan Trice, MBA, who co-founded Loom, a strategic consultancy that weaves together purpose and profit—which aligns with BAYADA's mission quite well. She believes in a future where humanity and profitability can enhance one another, and she intends to cultivate the leaders tomorrow requires.
"I think the events of the last year have made it abundantly clear that we can no longer see the world as we wish it was—we need to see it as it is and choose to make it better."
So, what does choosing to make it better look like?
Don't be afraid to advocate for yourself
"One of the things I emphasize in my negotiation training and with my clients is that asking isn't selfish," Megan says. "Unfortunately, many of us have been trained that it's wrong to ask, but as Beyoncé says, 'Power is not given to you. You have to take it.' Getting comfortable with advocating for yourself and asking is like a muscle. The more you practice, the stronger it gets. Start by taking small steps and advocating for yourself in safe environments, and work at it from there. Practice makes progress."
Negotiate for what you believe in
Negotiations can be frustrating for women. Studies have found that women can be perceived differently when using the same tactics as men. Rather than getting dismayed, embrace the fact that women are conditioned to be unselfish—use it to your advantage! Negotiations research has shown that women negotiate more effectively when it's for something greater than themselves.
"Every woman should ask herself these questions—what is the real outcome you want from this negotiation? Don't stop at the first number or thing that pops into your head. Keep digging until you can see how this outcome will impact not just you, but your family, your friends, your company, your community, etc."
Megan continues, "Then ask yourself how you can use that motivation to reframe the ask in the negotiation. Practice advocating for yourself and for the greater benefit you're seeking to achieve."
How men can be better allies
Too often people view themselves as sitting across the table from one another, negotiating against each other's interests. But that approach is bathed in a scarcity mindset. When it comes to gender equity, no one has to lose.
Megan advises that we think of ourselves as sitting on the same side of the table, looking at and trying to solve the problem of gender equality in the workplace together.
"It has to be a collaborative approach," she says, "but it also requires a level of vulnerability and self-awareness—a willingness for individuals to admit where they need to challenge their assumptions and ways of working"
But truly, what being an ally is—whether you're male, female, or gender non-conforming—the work is to listen—to actively listen—and to learn.
"As a society, we place a lot of value on being able to guide the conversation and place little value on being able to tune in and listen deeply. Listening is not just about exposure to more voices; it's about the work it takes to synthesize that information, uncover meaning, and discover new ways of being in the world."
Kate Murphy, author of "You're Not Listening: What You're Missing and Why it Matters" shares fascinating research in her book from neuroscientist, Uri Hasson. Those findings suggest "who we listen to shapes how we think and react. Our brains not only sync up the moment someone tells us something, the resulting understanding and connection influences how we process subsequent information."
That's why it's so important that you're listening to a broad range of voices—it will make you a better leader and a better ally in the workplace and beyond.
This International Women's Day, #choosetochallenge.
Interested in a work environment that supports women and the fight for gender equality? See job opportunities waiting for you at BAYADA>>