In 1983, Coretta Scott King, wife of the late Martin Luther King, Jr., fought—and won—for a federal holiday to honor his legacy as a civil rights activist. While some holidays are marked by barbeques and get-togethers, Martin Luther King, Jr. Day is celebrated in a wide variety of ways. Victoria Domingo, for example, Director of BAYADA's Garden City office, revisits his story—and the fight for civil rights—with her family. Whether through books, movies, or recordings of his speeches, they dedicate time to celebrating his incredible impact. Many, including Victoria, decide to give back to their community.
Coretta Scott King's goal in instituting the holiday was not just to remember him, but to inspire action. MLK was an activist, an organizer, a volunteer; his work was dedicated to improving the community he lived in and the larger community of African Americans across the United States. This year—and every year after—when we remember Martin Luther King, Jr., we should strive to emulate him, as well.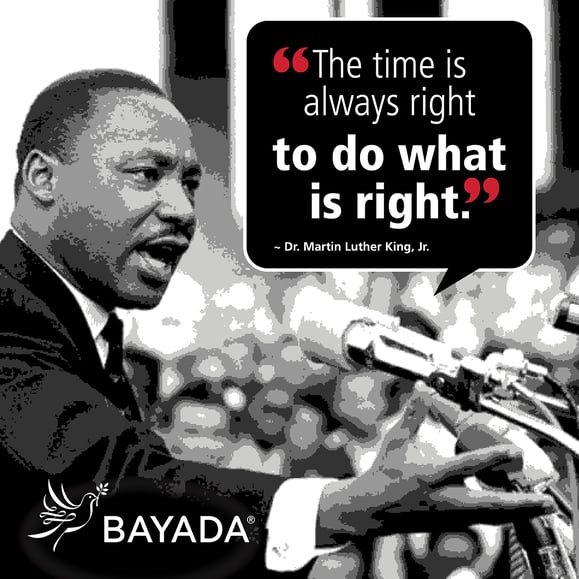 That's why, in preparation for the 2021 MLK Day of Service, we've put together a wide range of ideas for community service and volunteer opportunities for you to consider. We hope you'll make Martin Luther King Jr. Day a "day on, not a day off."
Community service ideas
Not sure where to start? Need some day of service ideas? Not everyone has experience volunteering, and it may not seem feasible during the COVID-19 pandemic, but it can be. And many opportunities are remote!
Before you find a volunteer organization to partner with, try to identify community service activities that might interest you or make use of your expertise, such as:
Food bank/kitchen volunteer

Tutor/mentor

Meals on Wheels volunteer or delivery driver

Disaster responder

Call-a-Senior volunteer

PPE delivery driver or coordinator

Hotline volunteer

Book drive volunteer

Classroom volunteer

Financial coach

Volunteer/case manager for veterans as a part of the Hero Care Network
And that's just a few; there are so many types of volunteer positions to choose from!
MLK Day of Service events and organizations
While there are many organizations and events that are locally based, many offer virtual participation from anywhere. Take a look:
Check back periodically throughout the year for updates to volunteer opportunities because there's never a bad time to give back. Whether you're affiliated with BAYADA or not, visit our Facebook to share how you spent your MLK Day serving.