Are you looking for ideas for community service? There are so many volunteer opportunities to choose from, like mentoring, running a food bank, or helping build homes. Many people don't realize how fulfilling it is to spend those community service hours with hospice patients. Some don't even know it's an option! Learn more about BAYADA hospice care.
Hospice volunteers know that helping others at the end of their lives is tremendously rewarding. Being part of a hospice team gives you the profound privilege of bringing comfort, peace and care to patients, caregivers, and their families during their transitional journey.
Volunteers feel a greater appreciation of life itself, a deeper understanding of what's truly important, and an authentic sense of fulfillment.
What is hospice care?
Hospice is a compassionate philosophy of care and an interdisciplinary set of services designed to support patients and families through the end-of-life process. Addressing the mental, physical, spiritual, and emotional needs of a patient and their family at the end of life, hospice focuses on pain relief and symptom management to provide dignity and quality of life at the end of life.
Hospice volunteering
Why consider end-of-life care as a volunteering opportunity?
As a hospice volunteer, you become part of a person's life when you are needed most. That sense of fulfillment is priceless. Also, without caring volunteers like you, there would be no Medicare-certified hospice programs. Medicare law requires that 5% of hospice care hours are provided by volunteers.
Who becomes a hospice volunteer?
People just like you. Adults, young adults, and in some cases mature teens from all backgrounds, experiences, and cultures. Effective hospice volunteers embrace the fact that their role is one of compassionate service. The only caveat is that you have not suffered significant loss within the past 12 months.
What skills do I need to be a hospice volunteer?
Most agencies will provide the training and orientation you need to feel confident and comfortable with whatever level of support you choose to give. Training can include things such as grief counseling, boundaries between the volunteer, the patient and the family, and emergency medical support.
Do you love music? Sharing stories? Playing cards? Whatever passions, talents, or interests you bring can also be valuable assets. The most precious asset, of course, is simply caring.
What does a hospice volunteer do?
Ultimately, hospice care is about providing patients, caregivers, and families with the most comfortable and compassionate end-of-life experience possible.
Your responsibilities will vary. In many cases it's as simple as companionship. Sitting and talking. Or just listening. Or playing a patient's favorite music.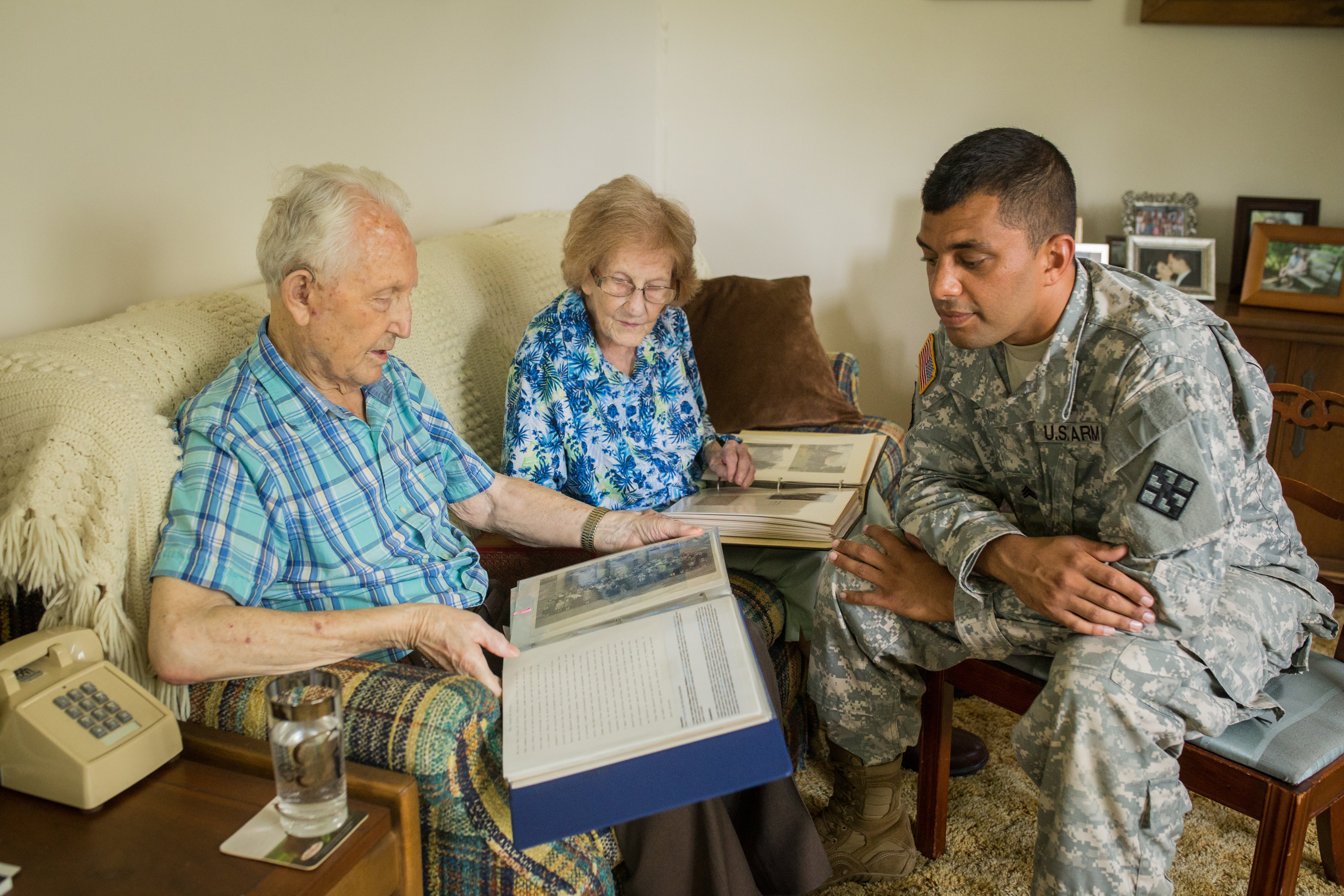 Hospice volunteer provides companionship and trades military stories with Stewart, a BAYADA hospice patient, and his wife.
You may also assist patients with tasks they can no longer perform for themselves. It may include anything from light household chores to lending emotional support to the patient's family during this difficult time.
If you prefer to work in a different capacity, some hospice providers have opportunities to help with administrative office tasks.
What is the time commitment for a hospice volunteer?
As with most things around hospice volunteering, your commitment can vary. It depends a lot on the time you're willing to commit and the needs of the patients you are matched with. You can work all that out in advance when you apply.
I'm interested hospice volunteering; how do I apply?
BAYADA Hospice has many rewarding volunteer opportunities. Find your perfect fit here.