One of the greatest factors affecting the overall well-being of our senior clients is loneliness—and the COVID-19 pandemic has only made it more difficult for older people to stay connected to others. Knowing this, BAYADA Client Services Manager Lindsay Majewski of our Garden City, NY office was inspired to find ways to combat loneliness in the senior population in her community. An old-fashioned pen pal program connecting kids and seniors was the perfect answer.
4 benefits of a senior pen pal program
The benefits of the adult pen pal program can be just as powerful for the children as they are for the seniors who participate. While the kids don't necessarily know or understand the struggles people have, the positive effect this connection has for both child and adult can be priceless. Here are four ways a pen pal program can make a difference:
1. Combats senior loneliness and feelings of isolation
"Providing community service where we live and work" is written in The BAYADA Way, our company philosophy and guidepost. This key action is especially close to Lindsay's heart because as a Girl Scout during her own childhood years, she learned the importance and necessity of giving back and making a positive impact on the community. When her daughter, Charlie, entered kindergarten, Lindsay decided to pass on that spirit of service by founding a Girl Scout Troop to better connect to their community. This way, they could give back together while influencing others to contribute, just like Lindsay did when she was a Girl Scout.
Because it was hard to reach and interact with her office's senior clients in person, Lindsay decided to team up with the Girl Scout troop co-leader and formulate a pen pal program that would benefit both kids and senior adults. She knew that a senior pen pal program could help to ease the loneliness and isolation older clients may feel throughout the year and especially during this difficult time.
2. Helps with cognitive and memory function as well as overall mental health
There are many cognitive benefits to writing down your thoughts by hand: it increases brain activity as you choose words and organize thoughts; it activates the parts of the brain responsible for thinking and language; and it boosts working memory by recalling memories. And since many seniors feel stressed or depressed due to loneliness and isolation, the act of writing down their feelings can alleviate some of those symptoms. In fact, one study on the mental health benefits of journaling found that those who journaled for 15 minutes a day/3 days a week felt less depressed after only a month of consistent journaling.
3. Creates opportunities to connect with people they otherwise
would not have met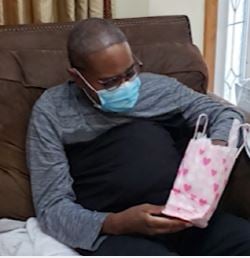 So, what began as a way for the Girl Scout troop to connect with willin
g BAYA
DA
clients in the community, has grown exponentially and become way more impactful than Lindsay could have ever imagined. One individual touched by thi
s pe
n pal program for seniors is 61-year-old BAYADA client Marvin B. As a career paramedic and first responder post 9/11, he now lives with severe upper respiratory issues, which has rendered him homebound and requiring 24/7 care. He said he is so touched by this service, "This thing with the Girl Scouts—a I'm absolutely thrilled. When I was a little young man, I was a Cub Scout myself. Volunteering is very important and we should all give back if we can."
4. Offers great opportunities for kids, too.
Lindsay also recognized that many of BAYADA's pediatric clients felt especially lonely as well. Nine-year-old, Sanayah P., a BAYADA client with paraplegia, became pen pals with Charlie and quickly formed a friendship and bond due to being the same age and having many things in common. Sanayah's BAYADA Client Services Manager, Roza Petrosyan, has witnessed in real-time the positive impact that this pen pal program has had on Sanayah: the anticipation of receiving letters from Charlie always brings a smile to her face when they arrive. Upon reflection, Lindsay says that someday the Girl Scouts will come to appreciate the positive difference they have made in the lives of these individuals. And at the same time, she is proud to be upholding BAYADA's culture of commitment to community service.
BAYADA: A place for the like-hearted
The bonds of friendships that have been formed through the pen pal program at BAYADA have been such a rewarding experience for Lindsay, knowing that she is making a difference one life at a time. Just like Lindsay's office, many BAYADA teams make it a regular activity to give back to their communities, making a lasting impact in their own way. If you share our passion for touching lives in meaningful ways, you'll find like-hearted colleagues at BAYADA and a culture that prioritizes improving a person's total quality of life—including yours!