Meet Jessie J., a lively 22-year-old BAYADA client with intellectual and developmental disabilities (I/DD), as well as GM1-gangliosidosis, an inherited disorder that progressively destroys nerve cells (neurons) in the brain and spinal cord. Although she can't speak and uses a wheelchair for mobility, Jessie has a fulfilling life, thanks to her positive outlook and her amazing mom, Merlie, who helps her every step of the way.
Merlie is specially approved through North Carolina's Innovations Medicaid Waiver program as a "Relative as Provider." The program supports people, who like Jessie, are at risk for institutional care, by providing funding and resources for them to remain living at home. Through the program, Merlie is certified as Jessie's care provider. She tends to all of Jessie's personal care needs and works on her habilitation goals by helping her use her communication device for communication and reading, practice her fine motor skills such as using a fork and holding her drink cup, exercise and stay active, and work on her social skills.
Since 2012, we have had the pleasure of helping Jessie and her mom work on Jessie's habilitation goals. Our role is to manage the case as we would with any client requiring habilitation services: We conduct monthly visits, perform employee compliance and supervision oversight, create client goals for in-home skill building, track progress of goals, request authorizations, work with the care coordinator, and more.
Although Jessie faces many physical and intellectual barriers, that hasn't prevented her and Merlie from being involved in their community and supporting issues and organizations that are important to them. Merlie has taught Jessica that regardless of their own personal challenges and issues, they have the ability and responsibility to help others.
Jessie and Merlie are both members of the management team and are the Wilkes County team leaders for "High Country First In Families," an organization that provides support to individuals with developmental disabilities and traumatic brain injuries and their families. They are also currently involved in a legislative committee called "Medicaid Managed Long Term Services and Supports Stakeholder Engagement Group." Comprised entirely of individuals and families receiving services from Medicaid, the group supports state leaders in their efforts to improve the effectiveness and efficiencies of the Medicaid system to achieve meaningful outcomes in the lives of individuals.
Due to their involvement in this committee, Jessie and Merlie have been traveling regularly to Raleigh, NC to attend meetings. There is a lot of change happening in the NC Medicaid system and mom and daughter want to ensure that their voices are being heard and their needs – and the needs of others with I/DD – are being met.
Living life to the fullest!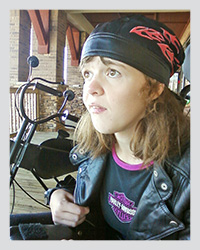 Jessie is so full of life, despite the many challenges she faces each day. She is determined, positive, and her smile can brighten an entire room. Jessie uses her communication device to keep her engaged and participating in the world around her.
She loves music, shopping, traveling, horseback riding – and even Harley Davidsons! Jessie loves going on adventures, especially Disneyworld, and attended her first NASCAR race in 2013 in Charlotte, NC. It was then that we discovered she loves racing; she was all giggles for the entire race. Jessie also enjoys the simple things in life, such as going to the local park and sitting and watching everyone – she is an avid people watcher. Jessie is a girl all about living life and enjoying every day.