The home health care specialty of assistive care is many things to many people. For clients' loved ones, it gives them peace of mind when they are away. For BAYADA client Stephen T., who experienced early onset cognitive impairment, it was reliable companionship that, to him, felt more like hanging out and having fun.
Client Stephen and his husband Neal
"Stephen and I met in a musical theater production. I was in the cast, he was director and choreographer," said his husband of 16 years, Neal L. "We had fun together; we liked a lot of the same things—movies, plays, traveling, being outdoors. Stephen had a youthful, artistic, kind of spontaneous personality—we used to call him a 'lost boy,' like in Peter Pan—so I think some of the earliest signs something was going on cognitively for him might have passed under the radar. He was 58 when his doctor made it clear."


When the time came to get help
Later, as Stephen's disease progressed, he stopped working and started spending his days at home with their wheaten terrier, Bertie. Over the course of that year, Neal kept going to work but was becoming concerned about the practicality of Stephen being alone all day. Despite all the technologies he had in place to try to track Stephen while he was gone, Neal found it hard to focus completely on work while he understandably wondered if Stephen was okay.
Then one day, Stephen became disoriented on a dog walk and needed the police to help him get home. Neal knew that his husband's needs had become more than he could handle by himself. He had been wise to interview several home care agencies ahead of time—assessing their "vibe," their levels of training and communication, and their flexibility, because he knew their needs would be changing with time—and immediately knew that he would call and schedule BAYADA. Within a couple days, professional support was there.
Finding the perfect companion
"We knew that Norine would be the perfect match for this family," said their BAYADA Client Services Manager in the Newton, Massachusetts office, Kirsten Kilburn. "Norine's bright personality and ability to reliably allow Stephen and Neal to live their authentic lives during such a difficult time was inspiring."
"I've always loved musicals and going to the theater. I used to think I was Judy Garland, singing everywhere I go," laughed BAYADA Home Health Aide Norine Bryson. "So Stephen was like the love of my life. We just enjoyed each other's company. I miss him. I miss him so."
Stephen looked forward to Norine coming over. She was a friend he could talk and laugh with—someone who gave his days structure, interaction, and joy. They would walk the dog together, sometimes cook or watch movies together, and cheerfully greet Neal when he got home. On one memorable day, Stephen had taught Norine the dance moves for Follow the Yellow Brick Road.

Neal and Norine reminiscing during a video call, June 2021
Enjoying true quality of life
Meeting Neal and Norine together by video conference, I could feel right away the natural chemistry, affection, and mutual respect between them.
Gratefully, Neal recalled, "Stephen needed very little care, but he needed company, and Norine was great for that. I was so appreciative to know that he was spending time with somebody who was enjoying that time as much as he was."
"I see other aides out in the park, staring at their phones," Neal said. "That's not Norine. Norine showed up, 100 percent. She was hanging out! She was listening to music, and dancing, and hearing stories about Dream Girls," he laughed fondly.
"She was able to really connect with him on a personal level. I'd show up at home, and Stephen's happy, Norine's happy… Walking in with the expectation that I'm not walking into a problem, that was number one," he stated, with visible emotion. "It was huge."
"Well, that was the thing," Norine replied. "Even though I was there for Stephen, I always believed that the role of the home health aide is to make the family feel supported, too. So when Stephen would take a nap, that was my chance to do the other things, like laundry. I wanted Neal to feel that once he got home, all he had to do was eat and rest. I tried to keep the spirits up so when Neal got home, that was already taken care of."
Making the most of precious time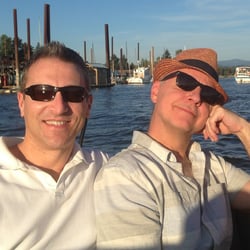 Because there was "no drama" at home—except for the performing arts variety—the couple was
able to relax at the end of their day and make the most of their time together. And that meant the world to them—not only because they knew Stephen's dementia would progress, but because tragically, they were surprised by a hemorrhagic stroke that led to Stephen's death way too soon, at the age of only 63.
"Norine was there to backstop anything that Stephen needed help with, but he didn't feel like he was being supervised, and that is so… incredible," Neal said poignantly. "that together, we were able to provide him with that sense of independence and autonomy, and that he could still be… a person."
When assistive care is your calling
Norine has been through the pain of losing her own husband too soon, and that's part of what makes her so special as a compassionate caregiver. "I love what I do, and I think that probably shows," said Norine. "My kids say, 'Tone it down with the kindness, Mom. You're too cheerful!'" she laughed. "But I try not to have a bad day, you know? When you bury a lot of loved ones, and you're still here, you understand the privilege of another day."
"As a home health aide, you are seeing someone at the hardest time in their life. So it makes me feel good that I can be there. It gives me big fulfillment! I know…" she paused, thoughtfully. "I know when it's my time to say goodbye on this planet… I'll know that I made a difference."