During the winter months, ice, snow, and cold temperatures can make life challenging for everyone, particularly for older adults. Slippery sidewalks and cold weather can cause a wide range of injuries and illnesses which, typically, affect seniors more seriously than younger people.
Here is some helpful advice for staying a safe step ahead of winter:
Avoid walking on slippery surfaces
That may seem like an obvious statement, but the potential dangers of slipping and falling can't be overstated. Falls can cause major injuries such as hip and wrist fractures, head trauma, and major lacerations. In fact, according to the Centers for Disease Control and Prevention (CDC), falls are the leading cause of both fatal and nonfatal injuries among older Americans.
Tips for walking safely: wear shoes with good traction and non-skid soles; replace a worn cane tip to make walking easier; remove shoes as soon as you return indoors because snow and ice can attach to the soles and, once melted, can lead to slippery conditions inside.
Dress for warmth
As people age, they produce less body heat than when they were younger, making them especially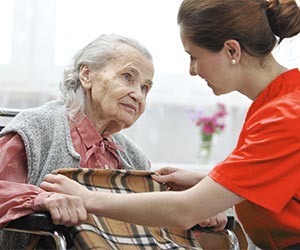 susceptible to hypothermia. Conditions such as stroke, Parkinson's disease, and severe arthritis — even some medications — can further affect a person's ability to regulate their response to the cold.
Tips for braving the cold: Dress in layers. Wear warm socks, a heavy coat, a warm hat, gloves, and a scarf. Cover all exposed skin and use a scarf to cover your mouth and protect your lungs.
Fight wintertime depression
Because it can be difficult and dangerous to get around, many seniors have less contact with others during cold months. This can breed feelings of loneliness and isolation.
Tips for avoiding the winter blues: If you live alone, hopefully, family members, friends, or neighbors will check in on you as often as possible. Feeling lonely? Reach out with a phone call. Even a short, daily phone call can make a big difference.
Prepare for power outages
Winter storms can lead to power outages, which can leave you in a life-threatening situation if you're unprepared.
Tips for preparing for a power outage: Make sure you have easy access to flashlights, a battery-powered radio, warm clothing and blankets, and fully-charged cell phones. Have a three-day supply of non-perishable food and water, pet supplies, and medication.
Ask for help
Family members and neighbors may be willing to help, but may not always be available when you need them. Consider hiring a home health aide who can help with keeping you safe, warm, and prepared for all that winter can bring.
"Wintertime poses special challenges for seniors and a home health aide can help ensure that they can remain safe at home all winter," says Pam Morin, director of the BAYADA Home Health Care office in Danvers. "They can assist with dressing warmly, walking safely, providing transportation to and from appointments, and running errands. And their companionship can bring a welcome ray of sunshine to an otherwise cold and dreary day."
Have you prepared for the winter months? What is the most challenging preparation?