The COVID-19 public health emergency is far from over in the United States.
Most known cases in the US—about 85%*—are still "active" and on isolation orders.
Many patients are leaving the hospital still sick and in recovery, with serious health and contagion risks that require home nursing and assistive care.
BAYADA is providing that care and education to COVID-positive individuals. Also, for tens of thousands of our medically fragile and vulnerable clients, from babies to seniors. People who need their regular nursing or assistive care, as well as protection from this virus. Some even live with COVID-positive family members.
Every dollar donated now can make a difference to keep these vulnerable individuals out of critical care units. As a nonprofit home health care provider, our mission to keep people safe at home has never been more important than it is right now.
*Worldometer, accessed April 24, 2020, https://www.worldometers.info/coronavirus/country/us/

A Growing Need for Personal Protective Equipment
We provide over 80,000 home care visits per week in the US—all now require additional infection protection supplies, including a mask. Caring for suspected or confirmed COVID+ households requires 1 full set of PPE per visit or shift.
The number of COVID+ home care clients we serve in the US has increased 400% over the last month. The urgent need for PPE is staggering, and not covered by insurance.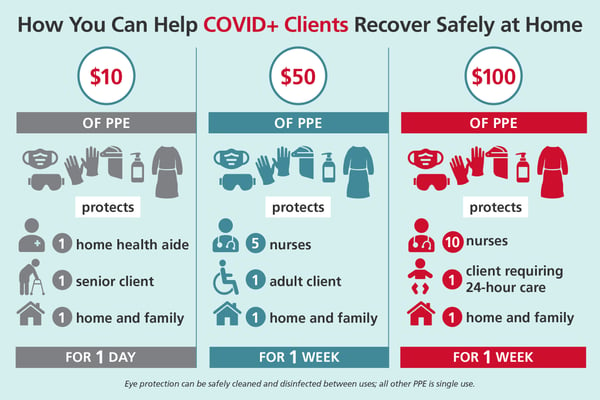 Your tax-deductible gift can help us:
Keep people out of the hospital, conserving ICU resources for those who need them most
Help COVID+ people recover safely at home, preventing complications and improving health outcomes
Prevent community spread of coronavirus with in-home education to comply with doctors' orders
Protect essential nurses and aides while they provide mission-critical care
Visit bayada.com/care4covid or text Care4Covid to 41444 to make a difference in the COVID-19 national response today.